Life has been a little stirred up these last few days. The weather cannot decide if it wants to be warm and sunny or muggy and rainy. I sustained a concussion on tuesday. My laptop left a nice burn on my leg. I really wanted to be eleven again last night. And as of twenty minutes ago, I am going to Hawaii this August. I would jump for joy on that last one, but concussions really hurt and that level of joy makes it worse!
Let me backtrack a little bit.
I was out at the plantation riding with everyone this past tuesday. I was trying to work on Ice's canter ( the thoroughbred that I lease ) I guess the ex-racehorse in him took over. He took off. It was all okay until I lost a stirrup and the saddle started to slip. At some point I realized that I had to jump off, so I did. Unfortunately for me, I whacked my head a little too hard when I hit the ground. I am told that I was never unconscious. I have to take my friends word for it, because my memory of pretty much everything after I hit the ground is completely gone. It's like everything is black and then little memories from hours later start to come back as though they are from a dream.
So, concussion + whiplash + everything else hurts = a really good story to tell later.
I had a grand time trying to convince my sister that I had no idea who she was. I think she might have been spooked for a minute or two. Maybe. Were you, Tuna Love? The Dr. said I'll be good as new.. eventually. Rest is the name of the game.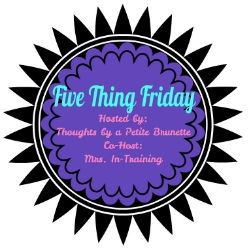 Today is friday which means it is Five Thing Friday! Though I believe it's a bi-monthy shindig, I'm still doing it today. Since I cannot describe it any better .. "I've gotten together with some of my good bloggy buddies and decided to start a linkup on Fridays called – Five Thing Friday. We're launching it for this Friday, you can blog about any Five things you like! Five things you want, pinned, love, hate, ate, drank, you name it. Creativity is encouraged! So grab the button and play along!"


I am playing along. I love link ups! They are so much fun, they connect you to so many other bloggers, and they connect many other bloggers to you! It's a win, win, win. I am making this a bullet item five things.
• I recently discovered a blog < doppelhanger > It is now a favorite. They are like a "match making service for your closet". I love the idea of Doppelhanger, and I had the privilege of being interviewed for the blog. Thanks again, Monica!
• When I was little I wondered what it would be like to have a concussion. Well now I know, and let me put it out there, that it is none too pleasant. Painful. Dizzying. Painful. At least I have the right to brag about having had a concussion. The little kid in me believes it makes me more legit.
• If for some reason you have not heard of Shabby Apple, you are missing out. Skirts and dress and shoes – all with a vintage flair! It is truly fantastic. I am really excited to spend my fifty dollar gift card today! You can check them out here: twitter here: pinterest here: instagram and here: facebook.com.
• I realized the other day that cookie dough should be eaten like this —
• I miss hand written letters. There is something so personal, so authentic, about writing and receiving a hand written letter. More care goes into putting pen to paper. I am seriously considering bringing it back into fashion.
Okay, I'm off to do some shopping! Have a lovely Friday.